Last Wednesday our homestay coordinator Nicole held a Swiss Cooking class in our campus kitchen.
The cooking classes are always popular among the students and many signed up for it.
We were making Swiss Rösti, a famous savory side dish.
Swiss Rösti Recipe
This easy recipe shows you how to make Swiss Rösti in your own kitchen. Rösti is very quick and easy to make and is a delicious way to eat potatoes.
Rösti is traditionally eaten at breakfast with a fried egg or two, but you can eat them at any time you want.
What is Swiss Rösti?
Rösti is a Swiss dish made with coarsely grated potatoes that have been fried in a pan. Some people in Switzerland even consider it the national dish. There are different regional variations that may use other ingredients, like the cheese and onion rösti, but this version is the basic recipe that just uses potato.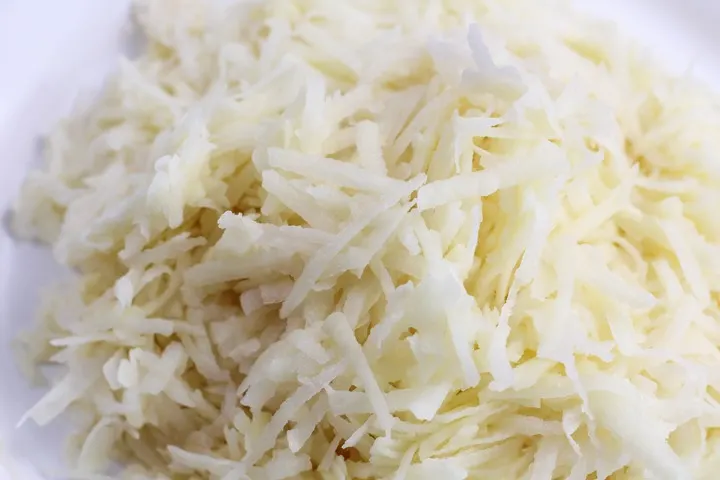 Ways to make Rösti
You may find that röstis are actually cooked in different ways in different places. Sometimes you will find them with more coarsely grated potato. In this case, the potato may have even been parboiled before it is cooked to ensure it is cooked through.
Often the potato is cooked in one large pancake type form so it fits the shape of the skillet, like this: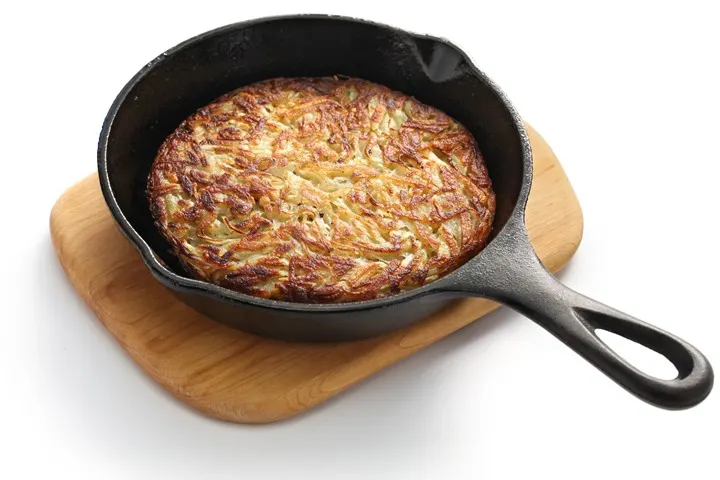 Because we had many students, we made a few little ones, so everyone could try.
Ingredients
2 potatoes (I used some new Maris Pipers for these photos)
Olive oil
Salt and Pepper
Knob of butter
Instructions
Peel and grate the potatoes. Then rinse the grated potatoes under the tap in cold water and drain them. This is to remove the starch from the potatoes. Make sure as much water is removed from the potatoes as possible after rinsing – give them a good squeeze in a sieve
Season the grated potato to taste, and mix the salt and pepper well into the dried grated potato.
Then create some round coin-shaped bundles of grated potato. The patty should be between 1 and 2 cm thick.
Heat a little olive oil in a skillet. Then carefully add the potato to the pan, being careful that they do not fall to pieces (use a flat spatula).
Then cook over medium heat for about 5 minutes each side until they are a golden brown colour. After flipping, add a small knob of butter to the top of the patty.
Then remove from the pan and place on some kitchen paper to remove any excess fat before serving.
Serve with fried eggs or bacon
In Germany, the Roesti is served with Applesauce – but in Switzerland, it isn't. We had a little battle, which way is the best.
It was very delicious in both ways 😀
We used the online recipe by https://recipesformen.com/swiss-rosti/
Learn English in Byron Bay. Lexis English students study General English, IELTS, FCE, CAE, and English plus Surfing in a friendly and professional school right in the heart of Byron Bay and only 15 minutes from the beach.